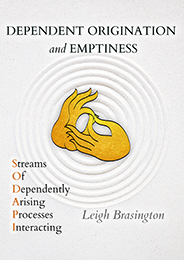 How to Obtain a Paperback Version
You can't download a paperback book obviously, but you can use a print-on-demand service to obtain one. I have just received a nice printed paperback from TheBookPatch. If you just want to do the simple thing, you can click this button and be taken directly to TheBookPatch's order page - price $9.81 + handling + tax + shipping:

---
If you want or need to use a different print-on-demand service, you can search for a single copy print-on-demand provider. There are many to choose from.
Below is the info you will most likely need to enter on any provider's order form:
| | |
| --- | --- |
| Title: | Dependent Origination and Emptiness |
| Author: | Leigh Brasington |
| Publisher: | Leigh Brasington |
| Size: | 5.83" x 8.27" -or- A5 |
| Color: | Black & White is fine |
| Category: | Buddhism -or- Spirituality -or- Religion |
| Sub-Category: | Mysticsm? Whatever? |
Here are the Files to Download in order to Generate a Paperback Book
PDF
This is the PDF version for generating a 228 page paperback book. Updated 26 Nov '21
Full
Cover
This links to the full front and back covers JPG for generating a paperback book:


You probably do not need the files below for most print-on-demand service:
Front
These 3 links are to 3 separate files for the Front Cover, Spine, and Back Cover and are useful if your chosen print-on-demand-service requires 3 separate files to build the cover.
Front
Cover
Only

This links to the front cover only, if that is what is needed:

You most likely do not need this. It's only available in case your chosen print-on-demand service wants only the front cover, not the front-spine-back cover or the 3 separate files above.